Lithium Batteries
Why Go Lithium?
If you look around we are pretty sure that you will spot various lithium battery-powered appliances around you, such as iPads, phones and tools.
This technology is amazing to the point that it has become the best way of powering up equipment with very little charging time. We at AMC have looked into lithium at great length and have been installing Transporter Energy batteries. They are the highest tested Intertek passed batteries money can buy and are made in the USA so quality is assured.
We have been fitting them in as an upgrade to many motorhomes and boats due to the 10-year warranty and the greater charging speed. Not only are these batteries great for giving longer off-grid power but they can also be linked together to allow the use of induction hobs and compressor fridges which relieves or eradicates the use of LPG on motorhomes.
Lithium also works very well alongside solar panels. They charge much quicker and store the energy 10x better than a lead-acid battery ever will. Charging a lead-acid battery from solar or mains is like trying to get a charge into a brick wall.

Lithium accepts the charge at a much better rate and doesn't rely on any fluid inside as these are Dry using cells. They can be fitted any way up and do not need maintenance due to an inbuilt BMS (Battery Management System) which regulates the charge rate, the surge rate and its temperature status. This can then be wired to your phone or battery monitor so you can see what's going on. This relieves you of what's known as "battery anxiety". These batteries truly are a fit and forget item that is an investment every keen motorhome or caravan owner should look into.
We have a dedicated team based in Sussex and Nottingham here to help advise, fit or design a system for you. Simply click the link below to find out more.
In addition, please find us on Instagram as transporter.energy or on Facebook as Transporter Energy.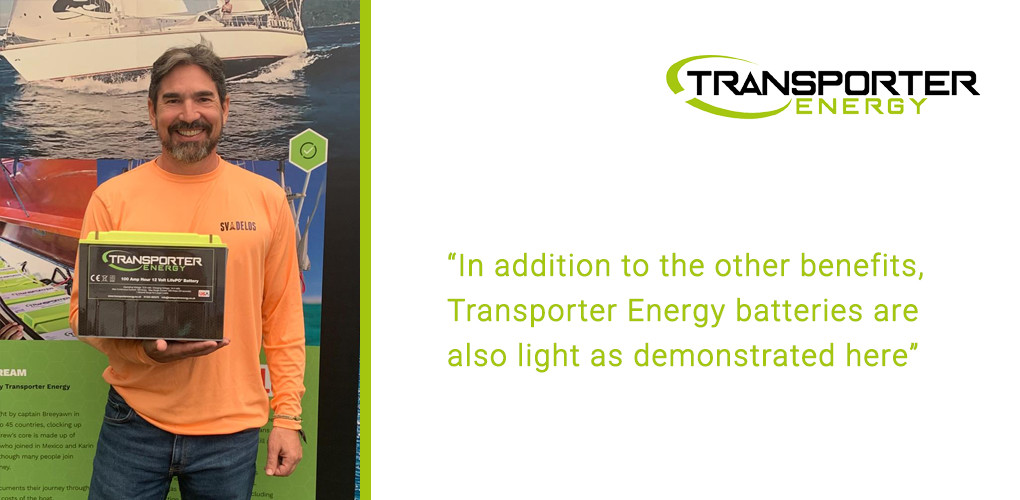 The Battery Of Choice
Transporter Energy batteries have quickly become the battery of choice and are now being used by a variety of organisations and businesses such as...
NHS
Bose Audio Equip
Marina Off Grid Boats
RS Motorhomes
Camper Uk
Premier Motorhomes
SV Delos
RV Installations
The Tall Ship Zebu
Zip World
Mountain View Centre
Specialist Automotive
Surf Side Charter Comp
ML Dealer Spain
As you can see these batteries really are the best and power many different applications throughout the UK and Europe.
Transporter Energy batteries are also powering the eXXpedition boat helping to clean up the plastic in our seas. You can read more about that here. In addition, Transporter Energy batteries are on the Rowboat project "Monkey Fist adventures" brave the waves.
Benefits Of This Particular Battery
Whilst we've stated several benefits already there are more. Transporter Energy batteries really do come with a whole host of benefits. In addition to being light, they also approved to fly and benefit from the below...
Made In USA (No Chinese Promises)
UK 10 Yr Warranty
Half The Weight Of Lead 13.1kg
5000 Cycles 80% DOD
No discharge If In Storage
Brass Battery Terminals
Plug-In And Go
Much Faster Charging
60% Lighter
To discover more about Transporter Energy batteries, please get in contact using the form below. Alternatively please head over to the Transporter Energy website at the link below.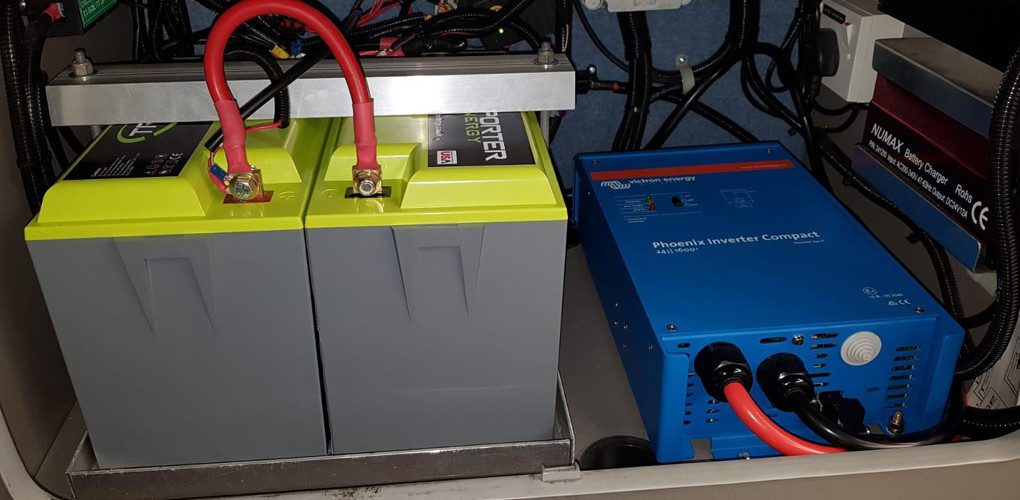 Learn More About Transporter Energy Batteries